Cutting Season and All Year Rules
Rose Lawn Memorial Gardens welcomes and encourages the placement of approved decorations throughout the cemetery.  It is our mission to continually improve cemetery grounds so that they are always visually appealing to families and visitors.  We  balance those goals with the ability to maintain the grounds in a responsible, cost efficient, and safe manner.  We respectfully request full compliance of the rules as set forth. Rose Lawn Memorial Gardens reserves the right to at any time amend these rules as deemed necessary.
 DECORATION REMOVAL TIMES: FIRST WEEK OF MARCH & FIRST WEEK OF NOVEMBER
All ground decorations (those on the ground) will be removed, without exception, at those times.  NOTE: Easter, fall, and Christmas decorations should never be placed until after the designated removal times.
At all times, Rose Lawn reserves the right to remove anything deemed unsightly, that which poses a risk, or that which creates a maintenance nuisance.
Decoration Restrictions in force ALL YEAR.
The following restrictions ALWAYS APPLY.  The staff of Rose Lawn Memorial Gardens will remove and dispose of these items without notification.
NO potted plants, plantings or fences.
NO ground statues.
NO glass or ceramic objects of any kind.
NO loose items, (figurines, trinkets, stuffed animals, cans, etc.) unless permanently secured to the monument base.  Items that are secured may not extend beyond the base of the monument. Loose items are never to be placed or secured on ground level markers.
NO balloons.
Decorations which include wire or are wired to the ground.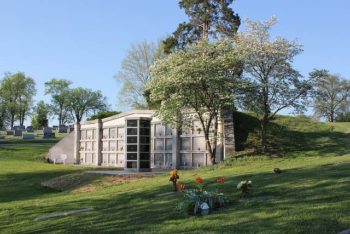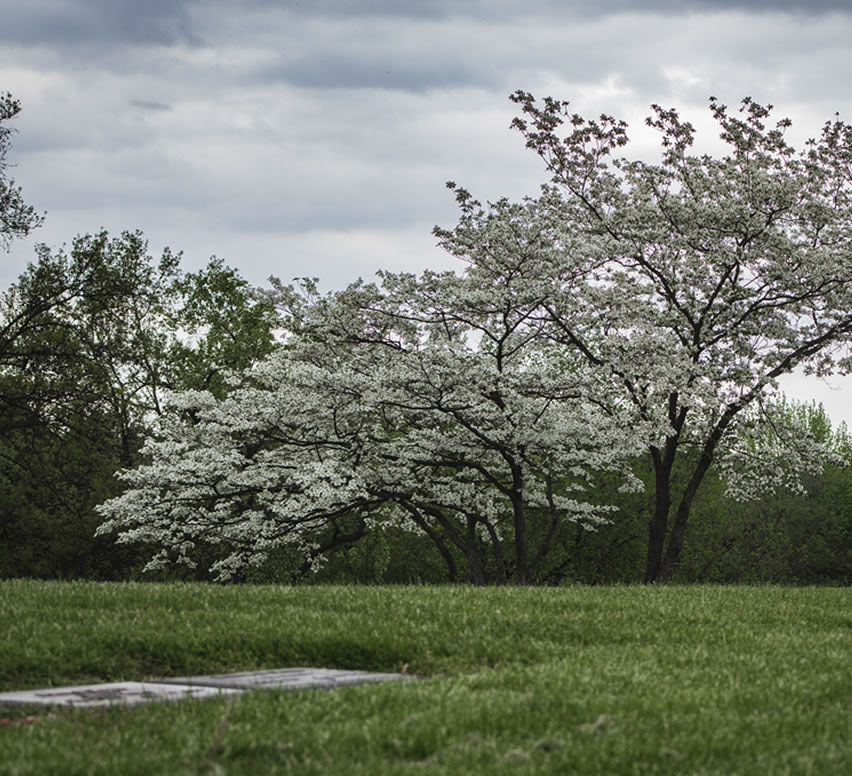 Decoration Restrictions during cutting season (between the March – November removals)
During the cutting season the following restrictions will apply:
All of the year around restrictions shown above.
One in-ground decoration per grave.
One shepherd's hook per monument/marker.
One solar light per monument/marker.  Solar lights are considered an in-ground decoration.
ALL in-ground decorations must be in a temporary or permanent vase so that grass trimmers are not affected.  Rose Lawn recommends the use of a sturdy one-piece cone (no twist off spike).
NO grave blankets.
Decoration Allowances during the non-cutting season.

During the non-cutting season, restrictions will be relaxed to allow for the following:
Multiple decorations per grave.
Grave blankets (secured) are allowed for the period beginning AFTER the fall decoration removal thru January 31.  All grave blankets will be removed from the grounds on February 1 of each year.
Flag Rules
Flags may be placed on graves for Memorial Day, Flag Day, Independence Day, and Veterans Day.  Flags should be no larger than 12" x 18".  Rose Lawn will place flags at the sites of Veterans (as can be determined) on Memorial Day and Veteran's Day.  Flags will be removed within ten (10) days of the holiday.
GOD, COUNTRY AND COMMUNITY
Crosby Door LLC is a local, family owned company with strong ties to the community.  We have over 20 years experience in installation, service and sales.  Our goal and our passion, is to deliver the highest quality services and products at a fair price.  We are dedicated to delivering our very best, every day, 365 days a year.  We strive to provide our customers with the information needed to make an informed decision about our products and services.  At Crosby Door LLC, we firmly believe that our dedication to customer service, accountability and honesty, make us #1 in our industry.  The range of services we offer is almost unheard of in today's market.  We sell, install, service and repair the smallest residential and  commercial doors and operators up to and including airplane hangar doors.  Our promise to you is, unequaled customer service that people rarely experience or hear about today.
CONTACT US
MAILING ADDRESS
PO Box 766
Hillsboro, MO 63050
SERVICE AREAS
Jefferson County, St. Louis City and County, Franklin County,
Washington County, St. Charles County and Surrounding Areas